Forscherinnen-Camp at the Faculty of Engineering and at Siemens Healthineers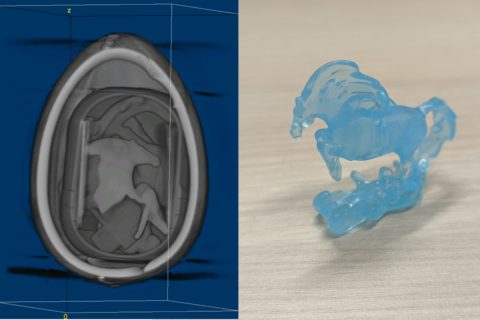 Getting female students excited about STEM subjects and providing career guidance is still essential to increase the number of women in this field. The 11th Forscherinnen-Camp (science camp for female high school students) at the Faculty of Engineering from November 1 to 5 offered an opportunity to do just that. The participants focused on the topic of artificial intelligence and medical imaging. The camp of the educational initiative Technology – Future in Bavaria 4.0 is sponsored by the Bavarian metal and electrical employers' associations bayme vbm and the Bavarian Ministry of Economic Affairs.
Female students between the ages of 15 and 18 from all over Bavaria were able to immerse themselves in the world of engineers and computer scientists and gain experience working with MRI (magnetic resonance imaging) and CT (computed tomography) scans at the Faculty of Engineering at FAU and at Siemens Healthineers in Erlangen. After exploring artificial intelligence in mammography and computed tomography, they scanned their own "patients" (Kinder Surprise Eggs) at the Chair of Production Metrology with Patrick Zippert and experimented with image analysis and image processing to "diagnose" the acquired images at the AIMI@FAU lab.
At the official closing event, the participants enthusiastically presented the experiments they had conducted, what they had experienced and their personal impressions of the week to an audience of company and university representatives and their families.
Thanks a lot to the AIMI team to support this event!
More information can be found on the event website.