AIMI lab at Lange Nacht der Wissenschaften 2022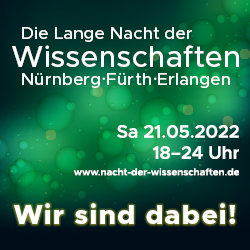 At this year's "Lange Nacht der Wissenschaften" (Night of Science), a total of 20 000 visitors explored science and research across all fields and at different locations in Erlangen, Nürnberg and Fürth. At the booth of the AIMI lab at Henkestraße 127, visitors could explore different aspects around deep learning, cancer diagnostics and digital pathology. Our guests had the opportunity to learn more about how deep learning can help to aid pathologists in finding important areas, support tedious manual analyses and unravel new insights into cancer and disease characteristics. Also, they could give tissue analysis a shot as well!
A big thanks to Mathias and Jana for demonstrating our research, to all members of the AIMI lab, PD Dr. Ramona Erber and collaborators from the pathology department of the university hospital around, Prof. Dr. Robert Klopfleisch from the Institute of Veterinary Pathology at FU Berlin, Dr. Christof Bertram from VetMedUni Vienna, and Prof. Dr. Marc Aubreville from TH Ingolstadt!